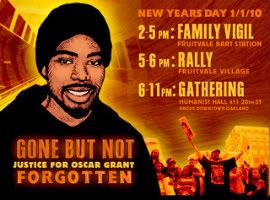 It was my first New Year's since I moved to the Bay. A nice, quiet one: Esther and I played watched movies, drank wine, and maybe stayed up till 12:30am. Maybe.
Not till the next morning did I hear the news: a BART policeman had shot and killed an unarmed black man at the Fruitvale station in the early hours of the morning. And there was video to prove it.
The man's name, we all shortly learned, was Oscar Grant.
In the weeks that followed, I joined the protests against the police violence (let's call it what it was: state-sanctioned murder), the BART Board's attempted cover-up, and the fact that Oscar Grant's family had to joined the ranks of those mourning another young black man taken from them.
I was at both the protests that turned into 'riots' in downtown Oakland. I didn't see everything, and I personally think breaking a couple windows doesn't do much (good or bad), it is true that Johannes Mehserle, the killer cop, was only arrested after the first big demonstration and in fear of the second.
There was weeks, months of organizing: vigils, rallies, meetings, new coalitions formed. And then…most of it fizzled. Whether the established, non-profit activists couldn't handle the influx of so many new, unaffiliated activists, all I know is that I stopped received email alerts and calls to action.
Mehserle is now on trial for murder, but the trial has been taken out of Alameda County, based on some blatantly racist reasoning. It'll be down in Los Angeles, and I can only hope that the verdict will come down, and he will be the first cop convicted of first-degree murder in decades.
Actually, I can do more than hope. I can re-join the movement. So can you. Let's start 2010 off right, my friends. I'll be at Fruitvale on New Year's Day for the vigil and rally. See you there.
For joy & justice in 2010…
* * *
Come celebrate the life of Oscar Grant, and demand justice in the New Year to come!
New Year's Day, 2010:
2-4pm: Family Vigil
Fruitvale BART
4-5pm: Rally for Justice
Fruitvale BART
6-11pm: Cultural Event & Community Gathering – featuring Ise Lyfe, Boots Riley, and More – Humanist Hall (390 27th Street, between Broadway and Telegraph)
Come to celebrate, mourn, and strategize!
All Ages / No alcohol / Wheelchair Accessible / FREE EVENT – Donations Encouraged
* * *