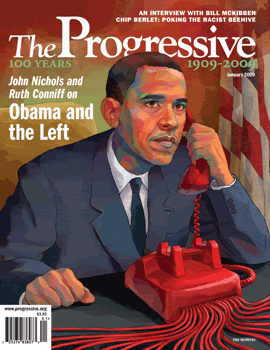 Since February, I've been doing this project with The Progressive magazine, where we highlight a different spoken word video each week that connects to current political issues. In honor of the late Howard Zinn (who wrote for the magazine), the goal is to showcase artists who boldly tell their own stories and "rewrite the American narrative towards social justice and solidarity." I'm not talking Ted Nugent here.
Three months in, I wanted to show folks where we're at so far. Here's all the pieces we've posted so far, with a couple highlights. You can tell, I've got a pretty broad definition of spoken word. (Seriously, what ISN'T spoken word? Well, I guess this might not be.)
Any videos you think I should get up there? Got anything yourself? Let me know! In the meantime, check out the whole series here, or just follow the links below:
May 3: Public Enemy – "By The Time I Get To Arizona"
Now that Arizona has legalized racial profiling – I mean passed a law "cracking down on illegal immigrants" – the question is: what do we do? Many people are calling for a boycott of Arizona, its convention centers, and pro sports teams. This is not the first time the Grand Canyon State was the state known for institutional racism. In the 1980s, Arizona was the last state to recognize Martin Luther King's birthday as a holiday. In response, Public Enemy, the greatest rap group of all time, released this track. The boycott worked, MLK Day was recognized, and luckily (for the governor's sake) Chuck D didn't have to go to Arizona himself to make himself clear. Let's hope we can make that happen again.
April 25: Paul Flores – "Brown Dreams"
April 18: George Yamazawa – "Brown Kings"
April 11: Saul Williams – "Pledge of Resistance"
April 4: Patricia Smith – "Skinhead"
March 28: Mark Gonzales – "Made in America"
In solidarity with the 150,000 marchers who took to the streets of Washington this past weekend to demand progressive immigration reform, we present this poem by Mark Gonzales. Artist, radical educator, and internationalist instigator, Gonzales defies the dehumanization of immigrants we hear everyday in the corporate media and halls of Congress. Forget Lou Dobbs. This poem speaks to the real legacy of Chicanos and all those who literally made this country what is today.
March 21: Nate Marshall and Demetrius Amparan: "Lost Count: A Love Story"
March 14: Guante – "Family Business"
March 7: Denizen Kane – "Patriot Act"
February 28: Invincible & Finale – "Locusts"
February 21: Carvens Lissaint – "Haiti"
Carvens Lissaint is a Haitian-American poet and performer from New York City. His poem "Haiti" was written a year ago and has a startling prophetic tone in the wake of the recent tragic events there. Carvens' mother was in Haiti at the time of the earthquake, and fortunately is safe and back home with her family. As Haiti struggles to rebuild after the natural disaster, and the U.S. and UN continue to focus more on "security" than relief, Carvens reminds us that the best people to lead the reconstruction of a community are the members of that community themselves.
February 14: Andrea Gibson – "I Do"
February 7: Suheir Hammad – "First Writing Since"